MediaNorth is the Quarterly Newsletter of the
Campaign for Press and Broadcasting Freedom (North)
ElectionWatch is a CPBF(N) Special Initiative
for the December 2019 UK General Election
---
Click on Image or Link beneath to download and read.
(If you have trouble downloading pdf, see instructions below)
Click on Image or Link beneath to download and read.
(If you have trouble downloading pdf, see instructions below)
---
---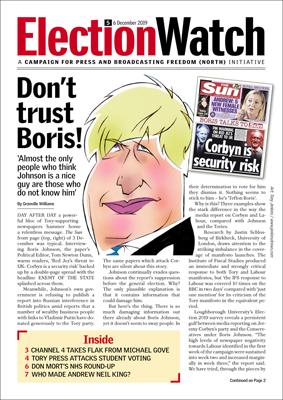 ElectionWatch Issue 5 - 6 December 2019
Click on Image or Link (above) to download
---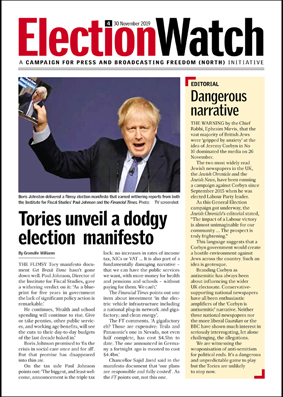 ElectionWatch Issue 4 - 30 November 2019
Click on Image or Link (above) to download
---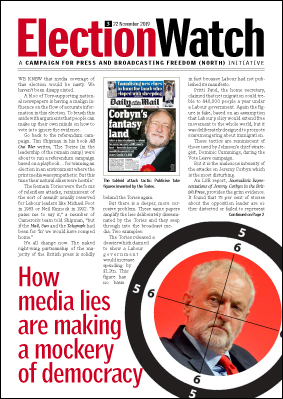 ElectionWatch Issue 3 - 22 November 2019
Click on Image or Link (above) to download
---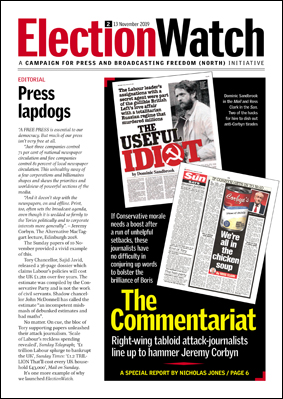 ElectionWatch Issue 2 - 13 November 2019
Click on Image or Link (above) to download
---
ElectionWatch Issue 1 - 4 November 2019
Click on Image or Link (above) to download
---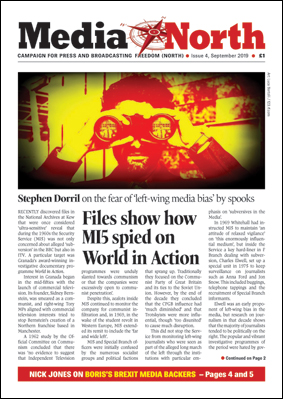 MediaNorth Issue 4 - Autumn 2019
Click on Image or Link (above) to download
---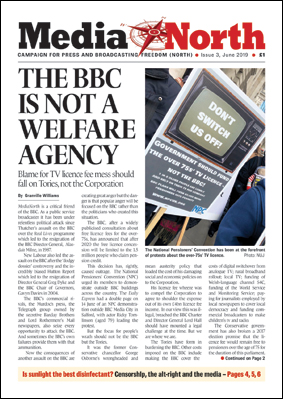 MediaNorth Issue 3 - Summer 2019
Click on Image or Link (above) to download
---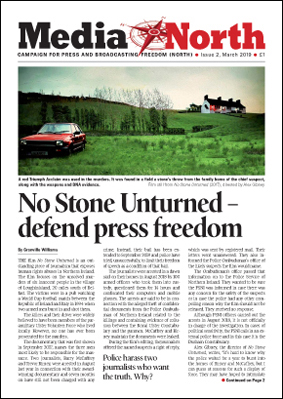 MediaNorth Issue 2 - Spring 2019
Click on Image or Link (above) to download
---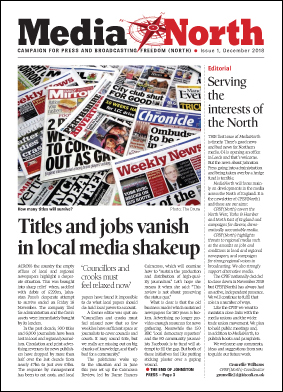 MediaNorth Issue 1 - Winter 2018
Click on Image or Link (above) to download
---
If pdf doesn't download automatically:
1. Right-click anywhere on pdf.
2. Select "Save As","Save Target As", or "Save Link As"
3. Save the document to your hard drive
4. Open Adobe Reader
5. When Adobe Reader is open, go to File, then to Open, then to where you saved your pdf.
---
Writing Worth Reading / Photos Worth Seeing
A Magazine of Radical Journalism - 52 Pages, Published Twice Monthly.
CLICK HERE TO READ THE LATEST ISSUES AND TO GET YOUR FREE SUBSCRIPTION
---