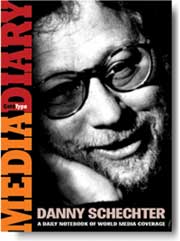 A daily diary on the
performance of the media

ABOUT THE AUTHOR – DANNY SCHECHTER is a television producer and independent filmmaker who also writes and speaks about media issues. The author of "Media Wars: News At A Time of Terror (2002) "The More You Watch, The Less You Know" (Seven Stories Press) and "News Dissector: Passions, Pieces and Polemics" (Electron Press), he is executive editor of MediaChannel.org. He has produced and directed many TV specials and documentary films and, with Springstein guitarist Little Steven Van Zandt, he produced SUN CITY, the hit record and video featuring 54 top artists speaking out against apartheid. He was a producer on the Nelson Mandela concert in London in l990.
---
ABOUT THE COLUMNS – These columns, edited from Danny Schecter's daily weblog (http://www.mediachannel.org/weblog), will be posted each week as multi-page articles ready for printing as inserts into an 8.5" by 11" binder. The cover (above) may be downloaded for printing as a binder insert.
Click here to download Cover (280kb)
---
DOWNLOAD THE COLUMNS HERE:
NEW THIS WEEK:
September 16 Batten down the hatches Click here to download (40kb)
September 12 Dick Cheney comes to call Click here to download (40kb)
September 11 9-11: The demand for answers Click here to download (40kb)
September 10 The dumbing down of cable TV Click here to download (40kb)
September 9 The cocoon in Cancun Click here to download (40kb)
September 8 Pancho Villa and GWB battle for ratings Click here to download (40kb)
September 5 9/11 and the Viacomese Click here to download (40kb)
September 4 Appeals courtstays FCC rules Click here to download (40kb)
September 3 The Empire strikes back Click here to download (40kb)
September 2 Season change, turn, turn, turn Click here to download (40kb)
---
August 8
The lies of Texas are upon you
Click here to download (40kb)
August 7 Amrozi's final march Click here to download (40kb)
August 6 Remember Hiroshima Click here to download (40kb)
August 5 Bombing Jakarta Click here to download (40kb)
August 4 Liberia's right to live Click here to download (40kb)
---
July 31 Looking back, thinking ahead Click here to download (40kb)
July 30 Looking back, thinking ahead Click here to download (40kb)
July 29 Betting on the bad stuff Click here to download (40kb)
July 28 Dick Done it! Click here to download (40kb)
---
July 25 Journos debate their role in war Click here to download (40kb)
July 24 News by numbers Click here to download (40kb)
July 23 The war winds on Click here to download (40kb)
July22 Our Jessica; one more time Click here to download (40kb)
July 21 'Dark actors playing games' Click here to download (40kb)
---
July 8 Heartbreak in Singapore Click here to download (40kb)
July 7 You apologize. No, you apologise Click here to download (40kb)
July 3 Bring then on! Is Liberia next? Click here to download (40kb)
July 2 Beckham, Beckham and Beckham Click here to download (40kb)
July 1 Tears for Dixie land Click here to download (40kb)
---
June 30 In the land of milk and honey Click here to download (40kb)
June 27 The day of our lives Click here to download (40kb)
June 26 A conspiracy - or domething more Click here to download (40kb)
June 25 Ghosts of Vietnam stalk the desert Click here to download (40kb)
June 24 $4m sucked from suffering city Click here to download (40kb)
June23 Hurray for the Hulk Click here to download (40kb)
June 18 Pacification as liberation Click here to download (40kb)
June 17 "What would come, would come" Click here to download (40kb)
June 16 Action urged to reverse FCC Click here to download (40kb)
June 13 The past is never past Click here to download (40kb)
June 12 Wear your body armor Click here to download (40kb)
June 11 Puking or rebuking? Click here to download (40kb)
June 10 The erosion of media trust Click here to download (40kb)
June 9 Media panderingas scandals swirl Click here to download (40kb)
June 6 New York Times editors step down Click here to download (40kb)
June 5 All smiles on Air Foce One Click here to download (40kb)
June 4 Talking peace by the Red Sea Click here to download (40kb)
June 3 After the FCC vote, now what? Click here to download (40kb)
June 2 FCC to public: Drop Dead! Click here to download (40kb)
---
May 30 Roadmaps: Theirs and ours Click here to download (40kb)
May 29 The FCC debate that never was Click here to download (40kb)
May 28 Donald Rumsfeld fesses up Click here to download (40kb)
May 27 Here comes the sun Click here to download (40kb)
May 23 TV or not TV? That is the question? Click here to download (40kb)
May 22 Can we beat the FCC?Click here to download (40kb)
May 21 The booing of Chris Hedges Click here to download (40kb)
May 20 Jerold – bearer of bad tidings Click here to download (40kb)
May 19 The news (re)cycle Click here to download (40kb)
May 16 Waking up to media realities Click here to download (40kb)
May 15 The media matrix is always loaded Click here to download (40kb)
May 14 Is our media state run? Click here to download (40kb)
May 13 Al Qaeda isBaack Click here to download (40kb)
May 12 Shredding of media accountability Click here to download (40kb)
---