---
Press Freedom Page
Missing or Bad links? Letters to the editor? E-mail: editor@coldtype.net
---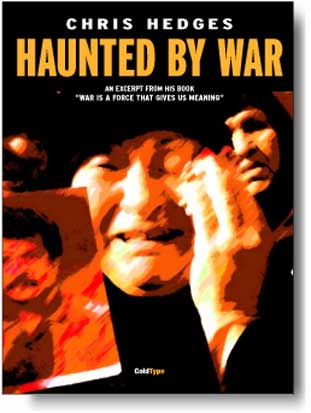 Silencing Dissent
Nightmare On Commencement Day
Pulitzer Prize-winning New York Times foreign correspondent Chris Hedges made headlines after being booed from the stage as he tried to deliver an anti-war commencement day speech at Rockford College in Illinois on May 20. According to one report, "his microphone was unplugged within three minutes. Voices of protest and the sound of foghorns grew. Some graduates and audience members turned their backs to the speaker in silent protest. Others rushed up the aisle to vocally protest the remarks, and one student tossed his cap and gown to the stage before leaving."
What did Hedges say (or, rather, try to say) that was so inflamatory? ColdType's special 14-page report reprints Hedge's speech, together with the transcript of a radio interview with Democracy Now!'s Amy Goodman and an introduction by Danny Schechter, editor of Mediachannel.org.

Click here to download Silencing Dissent (520kb)
---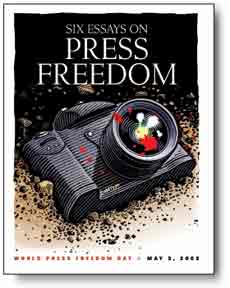 A special publication for
World Press Freedom Day
May 03, 2003

May 3 has been designated World Press Freedom Day to recognise the sacrifices made in the struggle for freedom of the press and to put pressure on the numerous countries that continue to deny their citizens this basic human right. This day marks the anniversary of the Declaration of Windhoek, a statement of principles drawn up by African journalists calling for a free, independent and pluralistic media on that continent and throughout the world. The Declaration affirms that a free press is essential to the existence of democracy.

This special publication contains essays on press freedom from journalists in Iraq, Thailand, France, South Africa and Gambia. It also gives details of the deaths of 47 journalists killed in the line of duty in 21 countries during 2002.

Click here to download Six Essays On Press Freedom (696kb)
---
The material published in this pdf magazine has been provided by the Paris-based World Association of Newspapers (WAN), a global organisation which defends and promotes press freedom worldwide. It represents 18,000 newspapers and members include 71 national newspaper associations, newspaper executives in 100 countries, 13 news agencies and nine regional and world-wide press groups. Contact them at http://www.wan-press.org
The illustrations were provided free of charge by leading editorial artists in Canada, France, South Africa and the USA.