[ABOUT
FRONTLINE]
Frontline magazine was one of the zillion home-made efforts to contribute to the ending of South Africa's apartheid system in the 1980s.
It was a little rare in carrying the seal of approval neither of the internal, reformist, opposition nor of the external, revolutionary, opposition. Therefore it was always broke.
Every couple of years an edition was banned, which meant free publicity to alert new readers but terrified the advertisers who were the lifeblood. Quasi-political publishing was a fraught arena, in a society smelling a revolution on the way.
Frontline did some interesting exploring, sometimes prophetic and sometimes wrong, and reflected some less evident prisms of life in the tail of a dying rattlesnake.
Now Frontline rides again, in cyberspace, courtesy of ColdType, whose editor Tony Sutton did the design work back then, in constant warfare with Frontline's owner-editor Denis Beckett. Sutton wanted display, Beckett wanted wordage. Between them they battled out a formula they called "flamboyance with dignity".
NB: All articles are in printable PDF format.
Copyright Notice:
All essays are copyright © Frontline magazine and individual authors
and may not be reproduced without permission.
---
---
[SUBSCRIBE TO FRONTLINE ]

If you'd like to be informed when new essays are posted
on line, join Frontline's mailing list by sending
an e-mail to frontline@coldtype.net
(Type SUBSCRIBE in the message line).
---
---
[READ MORE BY
DENIS BECKETT ]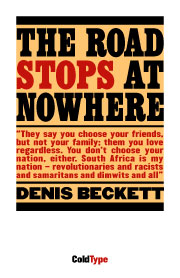 The Road Stops
At Nowhere
When Beckett took his family for a holiday trip from Johannesburg to the Cape, they didn't intend spending the ensuing weeks acquainting themselves with broiling desert roadsides, embattled third world hospitals or the civic pathology of some of the least tourist-attractive towns on earth. A wonderful adventure story in 80 pages
Click here or on image above to download
---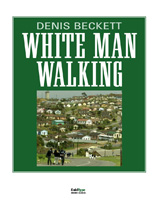 White Man Walking
An exhilarating trip through Durban's most violent township – 60 pages
Click here or on image above to download
[THE MISSION]
Facing the Future as One Society (First Issue, December 1979)
Editorial, Issue 1 / Frontline is not neutral, It believes that the current structure of society is wrong. Not just a little bit wrong, needing only a few amendments and some updating to put it right; but fundamentally and drastically wrong. It stands for a society which is run in the interests of all the people, not of any section. Frontline's basic assumption is that South Africa is one society, and that sooner or later it will be recognised as such, no matter how hard conservatives might try to keep it "white" or radicals try to turn it "black".
CLICK HERE TO READ THE FULL EDITORIAL COLUMN
---
---
[THE STORIES]
Note: All stories are downloadable pdf files. Click on link to download file and open with Acrobat Reader. Latest entries appear first
20. The Other Side of Hillbrow (May 1987)
By Nana Kutumela / Colour me black, colour me pink, colour rne whatever you like, but, please, just leave me in peace to enjoy the splendour and dignity of living in Hillbrow. Yes, the splendour and the dignity. I do not deny that there are problems. But the problems are not the whole story of Hillbrow. To we who live there, unlike you who rely on the scandal and horror stories of the newspapers, there is another side. There is the splendour of cosmopolitanism. And there is the dignity of being able to stroll the street of one's neighbourhood freely and proudly at any time of day or night, with the whole world around you and no fears of passes or curfews.
CLICK HERE TO DOWNLOAD PDF FILE
---
19. The Hunt (April 1988)
By Steven Ashley Botha / One morning I wandered down to the Station Hotel for a beer and a game of pool. At the hotel, sitting outside on a yellow plastic chair, was an elderly bespectacled man called Norman. A bloodstained green blanket was draped over him, and he was holding a bloodily smeared glass of brandy in one red hand. The hotel manager and a handful of regulars stood around, drinks in hand. Tony, looking like a hobo with unkempt hair and unshaved face, teeth protruding like an old picket fence, filled me in: "Norman's been stabbed by some kaffirs in the subway." An ambulance was on its way.
---
18. Oh, What a Lovely Revolution (May 1984)
By Tony Weaver / The terrorist season has started again. Sitting here at Schneider's Cafe; late afternoon, late summer sun rimming the umbrellas with light, you can see them wandering round the mall. They're unmistakable. Either wearing crisp khaki from the Sudwest Safari Shop in Hamburg, or casually cutoff jeans bulging over suntanned thighs developed in six months of overland travel through Africa, with a capital A.
---
17. Blood River at Sleepy Hollow (February 1988)
By Khaba Mkhise / What is actually happening to the lives of the ordinary people of Maritzburg? That is the question the editor of Frontline asked me to answer. My first thought was: "To live in this place is to endure the torture of having to dutifully answer such questions as yours, while all around is pain."
---
---
16. Autumn of Discontent (June 1985)
By Denis Beckett / We've known bad times before, but never quite the broad spread of disruption of the last few weeks. Periods of turmoil used to come at intervals; now they run together in a chain. Previously official responses concentrated on agitators; now the focus is on causes of grievance. Where only the rarest peaks of black disturbance penetrated the sheltered cocoon of white existence, now the subject is a source of discussion and foreboding all over.
---
---
15. Being Nice to a Small Planet (October 1982)
By Helen Zille / If he could, Arnold Abramovitz would take one of those signs off the lavatory door and pin it onto this planet: "Please leave this place in the condition you would like to find it." He is so concerned about this condition that three years ago he co-founded an organisation to do something about it. He now holds the title of treasurer, and the last annual financial report he produced looked lilke this: Outgoings: R350 Incomings: R63 Shortfall: R287. At this point most other organisations would take the rational decision to pack it in. But not the Appropriate Technology group at the University of Cape Town.
---

---
14. Watching Winnie (April 1987)

By Nomavenda Mathiane / For months there have been questions asked by Soweto people regarding Mrs Winnie Mandela, and Frontline has been seeking to put these questions to Mrs Mandela for her replies. One question is about Mrs Mandela's view of her status as "Mother of the Nation". Most people take it for granted that Mr Nelson Mandela is President-in-Waiting of South Africa and people are happy with that. Even people who do not necessarily support the ANC look up to Mr Mandela and view him as the embodiment of black aspirations. At the same time many people have become uneasy that Mrs Mandela is taking her role as "First Lady" too heavily.
---
13. Not All the News is Fit to Print (December 1989)

By Rian Malan / Oprah Winfrey is big and black and blunt and America's newest TV talk-show superstar. Towards the end of August, she did a show on apartheid, and when I tuned in her guests were telling atrocity tales. The South African police were mowing down civil-rights activists in the streets. They were assassinating black radicals. They were shooting the shoulder blades off innocent African children "clipping their wings," it's called – more or less for fun.
---
12. In Their Name Their Son was Killed (September 1985)

By Stovin Hayter / Michael Hamlyn was shot dead by South African soldiers, along with at least II others, on the morning of June 14, 1985, in what has come to be called the 'Gaberone raid'. As Noel Hamlyn tells of his visit to 2914 Padulugo Close, Gaberone, and describes the methodical violence of his son's death, the words come fast, each with its little burden of rage.
---
11. Don't Mess with the Selous Scouts (November/December 1981)

By Louis du Buisson / The first thing Braaivleis Ben did when he moved into his new house at Ferry Point was to build a fence around it. Ferry Point is a picturesque little holiday complex nestling on the slopes of Mount Sullivan on the north shore of the Umzimvubu River - about thirty cottages, houses and dwellings overlooking the river mouth, the Indian Ocean and the village of Port St Johns on the south shore.Pretty as a picture postcard.
---
10. Wits Blitz (May 1987)

By Denis Beckett / Winnie Mandela is meant to be speaking at Wits. There are rumours that the meeting has been banned, others that it hasn't been banned but is illegal anyway. With all the veerings in the Emergency regulations no-one seems to know. At about 12.45 I go to take a look . . . Reaching the piazza level above the lawn, I stop in sudden shock. I am directly in the path of an oncoming platoon. They are semi-marching, semi-walking in formation, about ten abreast, with helmets and visors, teargas guns in the port-arms position.
---
9. Diary of Troubled Times (November 1986)
By Nomavenda Mathiane / Tuesday, August 26: I am seated in my living room, helping my 14-year-old daughter with her homework. The phone rings. It is my elder sister who lives in Rockville. I know immediately that something is wrong. "Noma, I don't know what is happening. We are hearing so much shooting and I believe people in White City are being evicted."
---
8. Sol's City (September 1983)

By Terry Baron / Revere it or despise it, Sun City has taken on astonishing dimensions in South Africa's life. More than "Las Vegas in the bush", etc., it's also the living embodiment of how "we" (conveniently forgetting that BophuthaTswana isn't meant to be "ours" at all) are hitting back at the international boycott movement.
---
7. Suspect (August 1982)
By Chris van der Merwe / This is the kind of story I never wanted to write, because I thought it would merely focus on an individual without solving his problem or anybody else's. The problem is 'being suspect' a 'Government spy' in a time of revolution when everyone is suspect. Is there any point? Perhaps there is. There are special dimensions to being born an Afrikaner White, more or less – and contributing for a living mainly to Black magazines in the dying days of Colonialism and apartheid.
---
6. Bad Arithmetic (August/September 1988)

By Andrew Kenny / Outside South Africa there is a world shared by rich white people and poor black people. The white people live in pleasant countries where they have problems with over-production of food and schools becoming empty because of dwindling populations. The black people live in impoverished countries where there is not enough food and the schools are overflowing because of growing populations. The white-ruled countries practice an International Apartheid that is as morally repugnant as domestic Apartheid in SA and even more unnecessary.
---
5. Eugene, the Arch-ogre (July 1983)
By Denis Beckett / Tears well in the eyes of the arch-villain, the super-ogre, the ominous, foreboding figure so often depicted as the South African resuscitation of Hitler. "Why?" He seems conscious of the damp film spreading across his blue eyes, and a little embarrassed. "Why do you want to make him into your mould? Why can't he have his own? Why can't he have what we demand for ourselves?" For whom, I wonder, do those unlikely eyes really water? For the black South African, whom Terre Blanche has just correctly accused me of wanting to have think and behave in something of the same way as I do? Or for himself and his kind.
---
4. Mad Mike's Men (January 1982)

By Daryl Balfour / Mad Mike Hoare, mercenary soldier, legendary colonel of the Congo bush war of the mid Sixties, is The Boss. He's the man they'll follow to hell and back . . . and when he puts out the word that "trouble is flying" his wild geese step smartly into line, puff out their chests, and pull in the paunches. Thomas Michael Hoare is a mercenary with a difference, a man-o-war with a reputation born of his own glory, the archetypal soldier of fortune and professional adventurer to whom all of the creed show respect.
---
3. Robert Mugabe's New Gospel (May 1980)
By Patrick Lee / The Limpopo was not filled with fleeing Cambodian-style refugees, desperately swimming Southwards to safety, as many people had predicted would happen if Mugabe triumphed. Instead, various South Africans are talking of the possibility of emigrating to Zimbabwe. What happened?
---
2. BJ Vorster and the Sultan's Horse (November 1983)

By Hermann Giliomee / At his peak John Vorster was the most powerful man South Africa has ever known. Had he wished to he could have led South Africa into directions which are not open to his successor, who lacks his stature as volksleier. Yet finally, like General Smuts before him, he ended up leading the country nowhere in particular at all. Why not?
---
1. Appointment with the Hangman (April/May 1988)
By Nomavenda Mathiane / They say hope springs eternal in the human breast and that where there is life there is hope. For relatives of condemned people, these are not jokes. From the moment the judge pronounces the death sentence, those involved will carry the fear and anxiety like an invisible cross. They will spend the rest of their lives asking questions such as: "Was he really hanged?" or "Is it true that they are kept somewhere in the bowels of the earth minting money?" Or, "Why are we never shown the bodies?"
---
---
TELL US WHAT YOU THINK
We'd love to read your
comments about any of the Frontline stories.
Please write to frontline@coldtype.net