Missing or Bad links? Letters to the editor? E-mail: editor@coldtype.net
---

---
PHOTO-ESSAYS
- IN PDF FORMAT
(Scroll page for essays)
---
---
---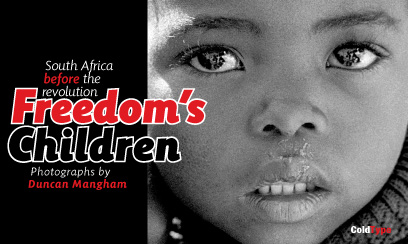 Freedom's Children
FREEDOM'S CHILDREN is a brilliant photo essay from South Africa before the downfall of Apartheid, by acclaimed British photographer Duncan Mangham.
Click here or on image above to download Freedom's Children
NEW: Also available in on-screen version here
---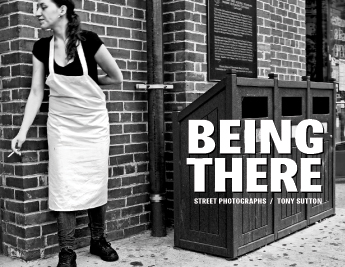 Being There
40-pages of street photography by ColdType editor Tony Sutton, Being There shows that, despite what you may think, not all Canadians are boring.
Click here or on image above to download Being There
NEW: Also available in on-screen version here
---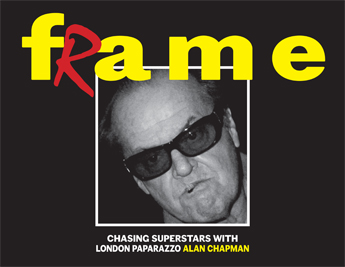 Frame
What do Jack Nicholson, Amy Winehouse, Kate Moss, Sopia Loren, Alice Cooper and Mike Tyson have in common? They're all featured in our 16-page collection of some of the best celebrity photographers from a soon-to-be-published book by acclaimed London paparazzo Alan Chapman.
Click here or on image above to download pdf
---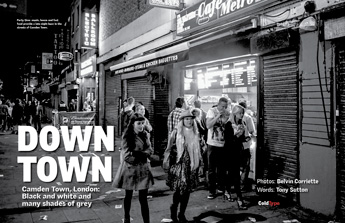 Down Town
"Belvin Corriette's photographs of London's Camden Town are marching across the computer screen. My mind is fully engaged, stimulated by long-dormant memories. Some are as clear and intense as the photographs I'm looking at, while others are muted, in converging shades of grey, undecided whether to emerge from the long sleep of time . . . "Text by Tony Sutton
Click here or on image above to download pdf (spreads)
Click here or on image above to download pdf (single pages)
---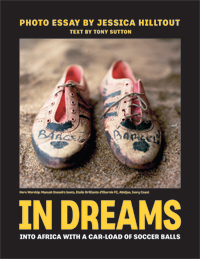 In Dreams
IN DREAMS: Into Africa With A Car-load Of Soccer Balls, a 16-page photo essay by Belgian photographer Jessica Hilltout, excerpted from her book Amen, with text by Tony Sutton
Click here or on image above to download pdf
---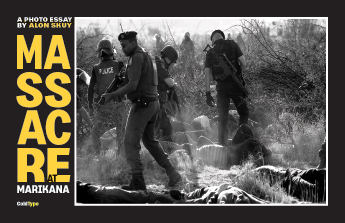 Massacre at Marikana
Massacre at Marikana, is a photo essay of the deadly clash between police and striking miners in South Africa from Alon Skuy, chief photographer of Johannesburg's Times newspaper, that earned him this year's Pictures of the Year International Award.
Click here or on image above to download pdf
---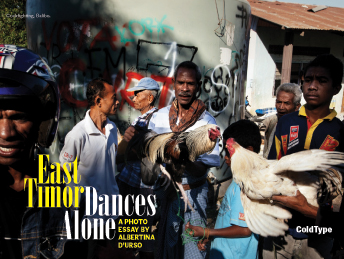 East Timor Dances Alone
Albertina d'Urso's 16-page photo-essayis a refelction of the lives of the people of East Timor as they move into the final stages of their long journey to freedom after decades of oppression
---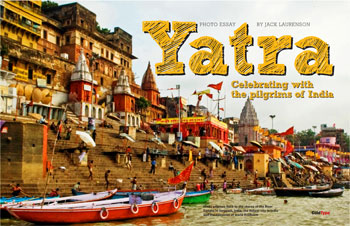 Yatra: Celebrating with the
Pilgrims of India
Jack Laurenson's 12-page photoessay captures the action at India's annual Yatra celebrations, when millions of devoted Hindu pilgrims travel thousands of miles by foot, bike, car and train to the banks of the River Ganges at Varanasi, the holiest city of world Hinduismd c
---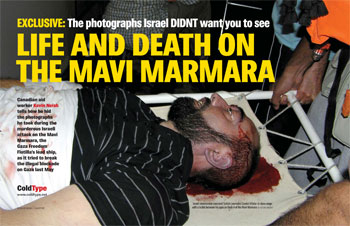 Life and Death on the Mavi Marmera
Canadian aid worker Kevin Neish was one of 581 passengers on the Mavi Marmara, the lead vessel of the Gaza freedom flotilla that was attacked in international waters on May 31, 2010, while on a mission of mercy to deliver aid to residents of Gaza. Israeli commandos boarded the ship, killed nine of its passengers, arrested the others and confiscated their cameras and film-making equipment. Neish, however, hid the memory card from his camera and smuggled it to safety. In this special photo report, ColdType publishes many of the pictures for the first time, along with Neish's story of how he managed to get the photographs away from his interrogators
Click here or on image above to download low resolution pdf
Click here to download high resolution pdf
---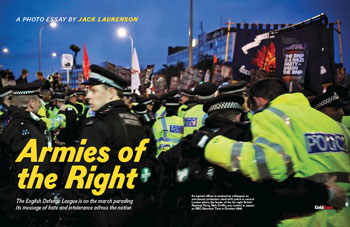 Armies of the Right
One of the disturbing features of the rise of right wing politics in Europe is the emergence of fanatical groups such as the English Defence League, whose targets are immigrants and asylum-seekers. Jack Laurenson followed the group as it swaggered around the country, parading its message of hate
Click here or on image above to download low resolution pdf
Click here or to download high resolution pdf
---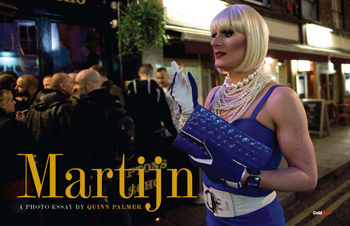 Martijn
Quinn Palmer, a founding member of the London-based photojournalism collective Lacuna Media, recently completed this reportage documenting the growing transvestite and transgender scene in Britain's capital. The intimate photographic project focuses particularly on the life of Dutch professional drag queen Martijn Smit, also known by his professional alias 'Vanilla Lush'. A 14-Page Photo essay with words by Jack Laurenson
Click here or on image above to download
---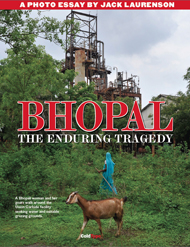 Bhopal: The
Enduring Tragedy
India's Bhopal gas disaster of 1984, in which at least 25,000 people died with 500,000 or more still affected, is the world's worst industrial catastrophe. Perhaps the greatest betrayal of the Indian people by the Union Carbide Corporation was not the initial disaster that brought so much suffering to the streets of this vibrant city, but the failure of so many to heal the toxic and painful legacy left behind. A 14-Page Photo essay by Jack Laurenson
Click here to download hi-res pdf
Click here to download lo-res pdf
---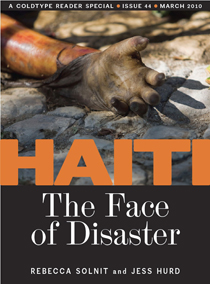 Haiti: The Face of Disaster
A desperate battle for survival in the ruins of a shattered city.
Words by Rebecca Solnit. Photographs by Jess Hurd
---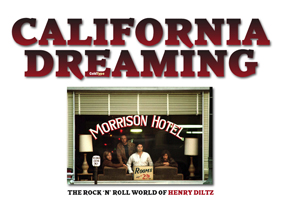 California Dreaming
A Photo Essay by HENRY DILTZ
In the world of rock 'n' roll photographers, there are none as extraordinary as
Henry Diltz. A founding member of the Modern Folk Quartet, Diltz is as much at home as a musician on tour as he is as a visual historian of the last four decades of popular music. The rapport he has developed with his musician friends enables him to capture the candid shots that convey a rare feeling of trust and intimacy with his subjects. For more than 40 years, his work has graced hundreds of album covers and has been featured in books, magazines and newspapers. His unique artistic style has produced powerful photographic essays of Woodstock, the Monterey Pop Festival, The Doors, Crosby, Stills, Nash & Young, Jimi Hendrix and scores of other legendary artists. Diltz continues his distinguished career, generating new and vibrant photographs that inspire the rock 'n' roll fan in each of us.
Download hi-res file (11mb) here
Download lo-res file (3mb) here
---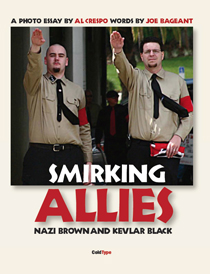 Smirking Allies:
Nazi Brown & Kevlar Black
A Photo Essay by Al CRESPO, Words by JOE BAGEANT
When a bunch of Nazis descended on Orlando for a march they were heavily outnumbered by cops. Al Crespo's photographs made author Joe Bageant wonder which of the two groups his country should fear most: a ragtag band of National Socialists (of whom there are 227 members in the nation) or the men in black kevlar.
---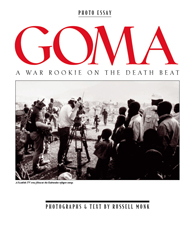 Goma: A War Rookie on
the Death Beat
A Photo Essay by RUSSELL MONK
The first printed version of the original tabloid ColdType contained an 8-page photo essay by Toronto photographer Russell Monk. This photo essay was a runner up in Canada's National Magazine Awards. Internet publication is slightly delayed - by 13 years - because we lost the files.
---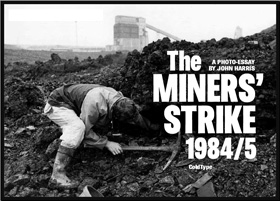 The Miners' Strike
1984/5
A Photo Essay by JOHN HARRIS
John Harris spent almost a year photographing Britain's miners' strike of 1984/5. In this 16-page large format photo essay he captures the battles between police and strikers and the hardships caused by the year-long strike that eventually led to the near-collapse of the country's union movement and paved the way for Margaret Thatcher's capitalist revolution.
---
Miami – FTAA, November 2003
Story and Pictures by AL CRESPO
This 164-page e-book by acclaimed photographer Al Crespo includes photographs of events that took place during the violent protests against the Free Trade Area of the Americas (FTAA) meetings in Miami in November 2003. This special book also includes the report into the violence during the event.
---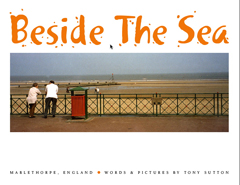 Beside The Sea
Story and Pictures by TONY SUTTON
Welcome to Mablethorpe, Lincolnshire, seaside destination for generations of holidaying Britons. Fish and chips, silly hats and cheap souvenirs; sandy beaches, sea - and sunshine, if you're lucky. For almost a century, this east coast resort has been a one-week-a-year escape for thankful refugees from the dark, dingy and often dangerous industrial mills, coal mines and factories of Nottingham and Sheffield and from the market towns and agricultural villages in the hundred-mile hinterland between industry and coast
---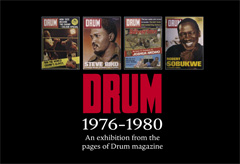 Drum 1976-1980
An exhibition from the pages of South Africa's DRUM MAGAZINE
Text by TONY SUTTON
Thirty years ago on June 16, 1976, a schoolkids' demonstration sparked a revolution that signalled the beginning of the end of apartheid in South Africa. DRUM magazine was in the forefront of the reporting of the revolution. ColdType has a special 52-page booklet that accompanies a new exhibition of pages from the magazine in the 1970s at South Africa's Grahamstown Arts Festival.
---
---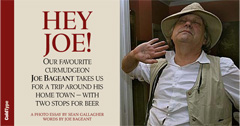 At Home with Joe Bageant
Photographed by SEAN GALLAGHER
Text by JOE BAGEANT
New York photographer Sean Gallagher joins Joe Bageant, our favourite curmudgeon, on a trip round Joe's home town. Join them on our 18-page record of Joe's journey from his home to his favourite bars in Winchester, Virginia.
---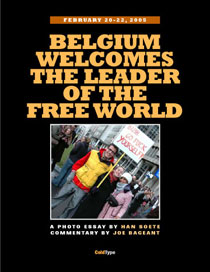 Belgium Meets the Leader
of the Free World
FEBRUARY 20 - 22, 2005
Photographed by HAN SOETE
Text by JOE BAGEANT
Upon first looking at Hans Soete's photos taken during President Bush's visit to Brussels, something struck me as odd. And after a few moments I realized what it was. These protesters are not enclosed inside a double-layer of razor-wire topped steel chain-link fence, otherwise known in the U.S.A. as a "Free Speech Zone." Nor were there any of the familiar rows of police with their bug-eyed Darth Vader gas masks and 180,000 volt stun guns. Not that the contrast will be noted by my fellow Americans because if you live in an average American town you would never know Bush's Brussels visit met with any protest at all. For example, my hometown newspaper in Winchester, Virginia ran a front page story featuring Bush looking statesman-like under a massive gold chandelier at the Concert Noble Ballroom in Brussels. The accompanying text focused on an alleged thaw in European relationships with president Bush. The other big front page photo was of happy returning GIs meeting their families again in the good old U.S. of A.
---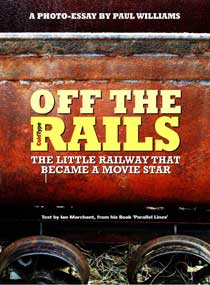 Off the Rails
THE LITTLE RAILWAY THAT
BECAME A MOVIE STAR
Photographed by Paul Williams
Text by Ian Marchant, from his book Parallel Lines
Built to a narrow gauge, it was six and a half miles long, running from slate quarries outside the village of Abergynotwen to a junction with the Cambrio Railways Line at Towyn. Built primarily to carry slate, it had obtained Parliamentary assent to carry a few passengers from Abergynolwen to Towyn and back. It had two locomotives, Talyllyn and Dolgoch, and just one four-wheeled passenger carriage. Her Majesty's Inspectorate of Railways sent an inspector. His recommendations stated that, as long as trains didn't exceed 10 mph, the thing was probably safe. Talyllyn and Dolgoch started to beat up and down the tine, carrying slate and occasional passengers – more in summer. Three more carriages were obtained. Then the world and, more important, the Railway Inspectorate forgot it was there; after their first visit, they didn't inspect the Iine again until 1951 . . .
---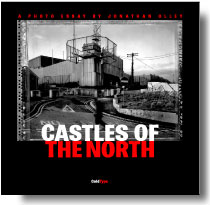 THE FACE OF NORTHERN IRELAND
Castles of the North
Photographed by Jonathan Olley,
with an introduction by Liam Clarke
Journalists, photographers and camera crews have followed the conflict between Protestants and Catholics in Northern Ireland closely for many years, but attention has rarely been given to the consequences the conflict had for the urban environment. Photographer Jonathan Olley photographed the British army 's heavily-armed observation posts and forts which define the street scene in Northern Ireland. They loom over shops, pubs and fish and chip shops like modern castles. Now that the army is withdrawing as a part of the peace process, the buildings and towers are being demolished brick by brick.
---
---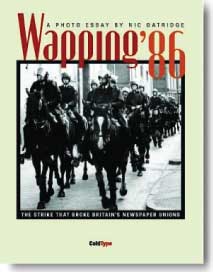 THE STRIKE THAT BROKE THE UNIONS
Wapping '86
On January 24, 1986, 6,000 employees went on strike after months of protracted negotiations at the London national newspapers owned by media magnate Rupert Murdoch. The company's management had ostensibly been seeking a labour agreement at their new plant in Wapping, but it had long since determined not to settle and instead sought to provoke a strike. Then, when industrial action was announced by the unions, dismissal notices were served on all those taking part. Nic Oatridge tells, in 20 pages of words and photographs, how Murdoch confronted and beat the unions, with the assistance of Prime Minister Margaret Thatcher's tough new labour laws and a police force that could hardly be described as impartial . . .
---

MAKING PEACE IN SOUTH AFRICA
Good & Evil
Photographer Jillian Edelstein attended the hearings of South Africa's Truth & Reconciliation Commission and returned with startling images of the perpetrators of the worst horrors of apartheid and their victims. Our 24-page essay is taken from her best-selling book, Truth & Lies, published by Granta in Britain, M&G in South Africa and New Press in the USA and Canada.
Buy the book at http://www.amazon.com
MAKING WAR IN NORTHERN IRELAND
Omagh, August 15, 1998
The Real IRA bombing which killed 29 people at Omagh in Northern Ireland was the last - and worst - major attack during the 30 year war between the province's Protestants and Catholic factions. The images in this 10-page essay are the work of Ulster Herald photorapher Jackie Sloan.

Download Here
---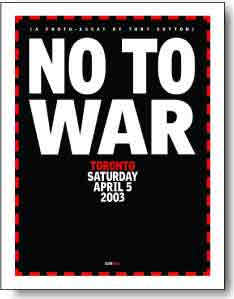 AGAINST WAR IN IRAQ / 2
No to War
April 5, 2003: Spring reverted to winter, but thousands of Torononians braved the elements to continue their weekly protests against the war in Iraq. TONY SUTTON's second 24-page photo-essay bears witness to the people who keep saying 'No' to Bush and Blair.
---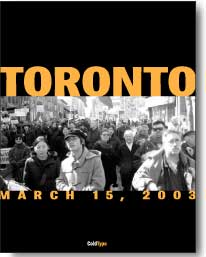 AGAINST WAR IN IRAQ / 1
Toronto Protests Against
Bush's War
Thousands of people in Toronto joined forces with millions of others around the world on Satuday, March 15, 2003, in a final protest against the war that is expected to be declared by U.S. President George Bush and his allies against the people of Iraq. Tony Sutton's photo-essay captures the occasion.
---
Please Note:
The downloads on this web site have all been saved in Adobe's Portable Document Format (PDF). If you don't have a PDF Reader, download one from the Adobe web site (click on icon below)